Best videos on the theme
Upcoming Executions US
IMPRESSUM
Conditions on DR AZ, Ohio
Ohio Executionschedule
Visiting Death House
Arizona
Guestbook First 150 entries..
How to send money to an inmate account or write an e-mail:

An Execution Date set
Manuel Fernando Garza R.I.P.
Texas caused his death 04/15/2015
April 2009
Manuel Fernando Garza # 999434

Polunsky Unit D.R.
3872 FM 350 South
Livingston - Texas 77351
U.S.A.


1. Mai 2008


Hallo an Euch. Nach sieben Jahren in Haft befinde ich mich am Ausgangspunk. San Antonio, Texas.

Es ist ein Segen, mit en gleichen Menschen, die ich einst kannte, zu verbinden. Ein Zustand, der mir die Augen öffnet, wer sich wirklich um mich sorgt und welche Menschen gewillt sind, für mich zu kämpfen.

Ich kam nach San Antonio wegen meiner Anhörung zu meiner Berufung. Eine gute Sache! Mein Anwalt überraschte mich mit Beweisen und einem Geständnis eines Zeugen, das eine Wiederaufnahme meines Falles gut aussehen ließ.

Daher habe ich es mir zur Aufgabe gemacht, meine Basis weltweit zu verstärken.
Im Februar 2001 wurde ich des Mordes beschuldigt – von einem Polizeibeamten. Tatsache ist, dass ich nicht geschossen habe oder wollte, dass dieser Mann stirbt. Ich wollte das Gewehr in eine andere Richtung halten aber im Kampf löste sich ein Schuss. Ich wurde fälschlicherweise verurteilt. Und zum Tode verurteilt, weil ich entschied, mich zu verteidigen.
Weil ich mich entschied, kein Opfer der Polizeibrutalität zu sein… Ich brauche Ihre Hilfe, um den mordenden Händen des Texanischen "Ungerechtssystems" zu entkommen.
Viele Fälle wurden im Fall Sean Bell veröffentlicht, San Antonios eigene Militär Fälle, in denen Männer verwundete Aufständische töteten und dann Waffen an den Tatort legten, um zu verschleiern, was geschah. Sie erzählten die Geschichte so, dass diese Männer für die Gerechtigkeit starben. Sie sind immer noch auf freiem Fuß.

Wer kann sagen, dass nicht auch ich ein Opfer einer solchen Tötung war. Auch ich hätte seine Waffe auf mich richten können, hätte eine schlechte Geschichte erzählen könne, wie das Opfer mich brutal geschlagen hätte, das dann aber vom Tatort geflüchtet ist (wie ich es getan habe) und letztendlich wäre ich im Krankenhaus gelandet, wo einer erschossen wurde…. Also Leute, Ihr solltet wissen, dass alles offizielle Informationen sind. Ihr könnt selbst herausfinden, dass das, was ich sage, Fakten sind. Fakten, die mich freilassen sollten.

Manuel F. Garza
(697564-BCADC, San Antonio )


May 2007
I Pray That Everyone Who Reads These Words Are Blessed, And Are Willing To Make A Step Toward Change. Some Of You May Know Me And Be Someone I Write To And Some Of You Are New To Me And What I'm Going Through...
For Over Six Years I Have Been A Wrongly Accused Convicted Murderer, And It Hurts To See That Although The Truth And Indisputable Evidence That Should Have Set Me Free, Was Totally Overlooked Because Of The Mind Game And Mouth Game The District Attorneys Had Over The People Of My City... A Few Supported Me But A Lot Rode The Ban Wagon Because They Automatically Assumed That" What's On The News Is 100% True." And That My Friends Is, What Is Wrong With This World Of People. A Lot Of You Don't Seek The Truth, And Instead Settle For What Is Thrown At You And Not Even Caring... So That Leads Me To Say That I've Been Wrongly Convicted! It's In Black And White. You Can Read It Yourself In Any San Antonio News Paper...
Manipulation Is What This Texas Killing Machine Is About, Modern Day Slavery, Or Better Yet! A Farm Of Men And Women Being Slaughtered Unjustly To Keep Your Money In The States Pockets... This Is The Reality You Are Living In And I Say If You Are Not A Part Of The Solution Then You Are Apart Of The Problem. A Voice Is All I Have, Holler If You Hear Me... I Am A Happily Married Man And Would Like To Thank My Family, My Wife And All Of My Friends Through This Hard Road.
Stay Strong And Sharp Because There's No Room For Slipping.
| | |
| --- | --- |
| | Drawings By Manuel F. Garza - sent January/Feb. 2007 |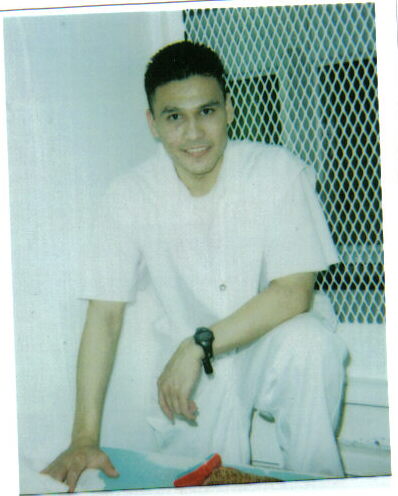 Manuel Fernando Garza
Life stranded on death row at 23 trying to find a way to be set free legally. No longer the fear in me for I know this has been a calling from higher unseen. To find me the real M.F.G now with peace and better understanding of what life can bring. Some-thing tells me to hold onto my dreams. Why? Cause somehow I can see the light shinning bright even in the darkest night!
No one see's my struggle they only see my trouble so it's kinda like i'm left in the rubble with no ride to the outside.
So here I am presenting to you my truth in hopes that you may be able to give me a boost. A firmer foundation to grow and be set to go out into the free nation!!!
4-3-2004
I am an artist at heart I do poetry, drawings of all sorts, grafitti, cartoons, not a master of the art I just do good work from the heart. I enjoy friends & good conversation a loyal and respectful young one.
Manuel Fernando Garza # 999434
address: Polunsky Unit D.R.
3872 FM 350 South
Livingston - Texas 77351
U.S.A.
Manuel Fernando Garza

Das Leben strandete im Todestrakt mit 23 und dem Versuch, 
einen legalen Weg freigelassen zu werden, zu finden. 
Nicht mehr mit der Angst in mir, denn ich weiß, dass es so von höherer, 
unsichtbaren Stelle so gewollt ist. Ich finde mich hier 
nun als einen Mann, der den Frieden in sich hat und ein besseres 
Verständnis dafür, was das Leben bringen kann. Manche Dinge sagen mir, 
dass ich an meinen Träumen festhalten soll. Warum? 
Weil ich irgendwie das Licht hell scheinen sehe in der dunkelsten Nacht!

Niemand sieht meinen Kampf, jeder sieht nur mein Problem, 
daher sitze ich in den Trümmern ohne einen Ausweg.

Also präsentiere ich Dir meine Wahrheit in der Hoffnung, 
dass es vielleicht Dir möglich ist, mich anzuschupsen. 
Eine festere Basis wachsen kann, von der aus man 
zur freien Bevölkerung gehen kann!!

04-03-2004 

Ich bin von ganzem Herzen ein Künstler und schreibe Gedichte, 
male alles wie Graffiti, Cartoons. Ich bin kein Meister der Kunst 
aber was ich mache, mache ich mit Herz. 
Ich erfreue mich an Freunden und guten, loyalen und respektvollen 
jungen Gesprächen.

Manuel Fernando Garza # 999434

Addresse:   
Polunsky Unit D.R.
3872 FM 350 South
Livingston -  Texas  77351
U.S.A. 
 


Artwork by Manuel F. Garza
Nicht mehr mit der Angst in mir, denn ich weiß, dass es so von höherer, 

unsichtbaren Stelle so gewollt ist. Ich finde mich hier 

nun als einen Mann, der den Frieden in sich hat und ein besseres 

Verständnis dafür, was das Leben bringen kann. Manche Dinge sagen mir, 

dass ich an meinen Träumen festhalten soll. Warum? 

Weil ich irgendwie das Licht hell scheinen sehe in der dunkelsten Nacht!

Niemand sieht meinen Kampf, jeder sieht nur mein Problem, 

daher sitze ich in den Trümmern ohne einen Ausweg.

Also präsentiere ich Dir meine Wahrheit in der Hoffnung, 

dass es vielleicht Dir möglich ist, mich anzuschupsen. 

Eine festere Basis wachsen kann, von der aus man 

zur freien Bevölkerung gehen kann!!

04-03-2004 

Ich bin von ganzem Herzen ein Künstler und schreibe Gedichte,