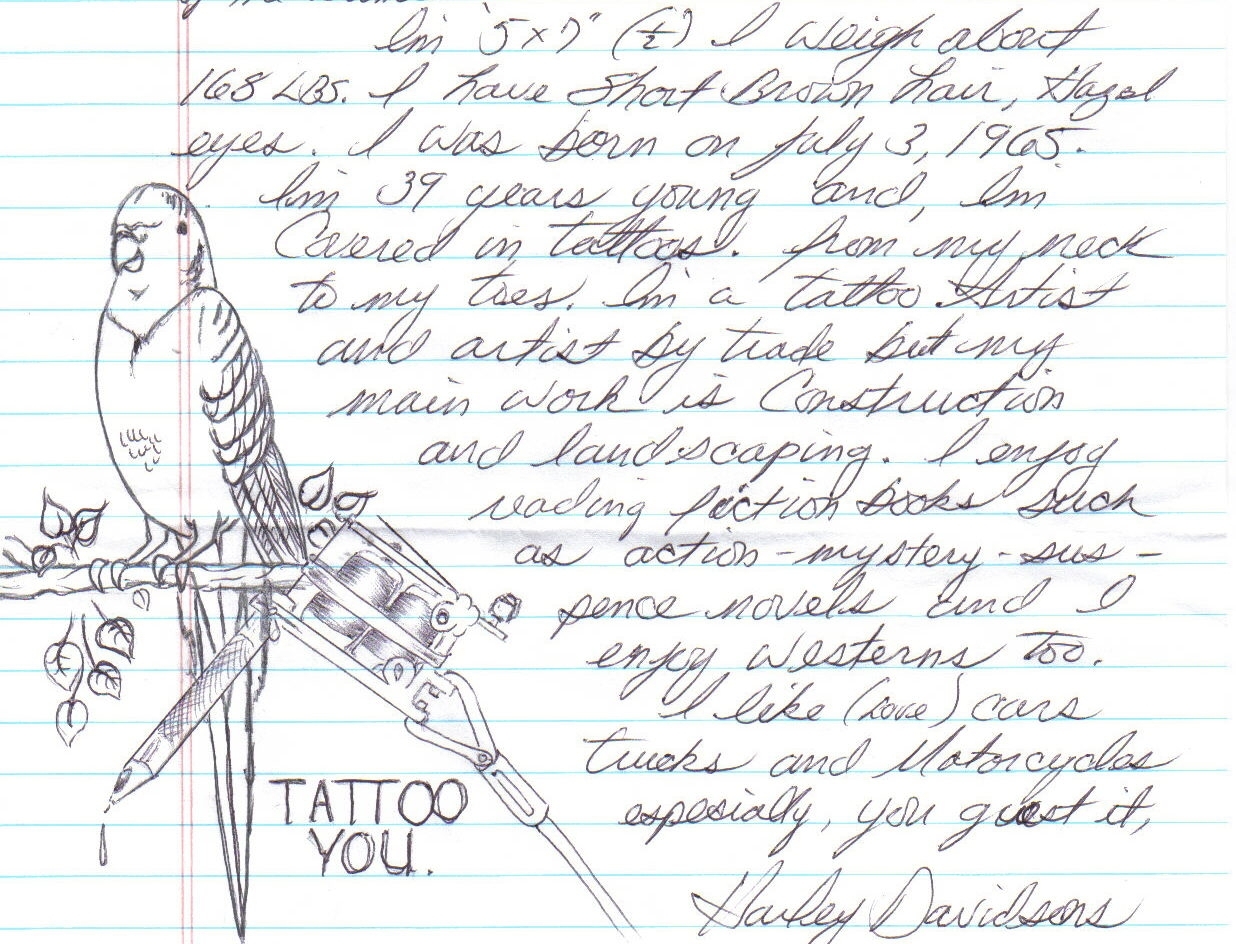 Hi. My name is Charles Ellison but people call me, Charlie. I'm here in Arizona on Death Row. Due only been here going on 16 months. Allow me if you will to give a short description of my self and of my interest. Hopefully you'll have some of the same.
I'm 5'7" (1/2), I weigh about 168Ibs. I have short brown hair, hazal eyes. I was born on July 3, 1965. I'm 39 years young and, I'm covered in tattoos from my neck to my toes. I'm a tatoo artist and artist by trade but my main work is construction and landscaping. I enjoy reading fiction books such as action-mystery-suspence novels and I enjoy westerns too. I like (love) cars trucks and motorcycles espesially, you guest it Harley Davidsons . I enjoy traveling (Hitch Hikang) the out of doors. Of cause, don't get much of that anymore. I enjoy poetry but can't write a lick of it for nothing. I REALLY enjoy drawing for other people since I 've been put here w/ only a golf pencil and pen filler that I'm allowed to have. Hey! If you'd like receive some awesome cut work and make a new friend , I'd love to hear from you. I could use a friend right now.
waiting hopefully for a new friendship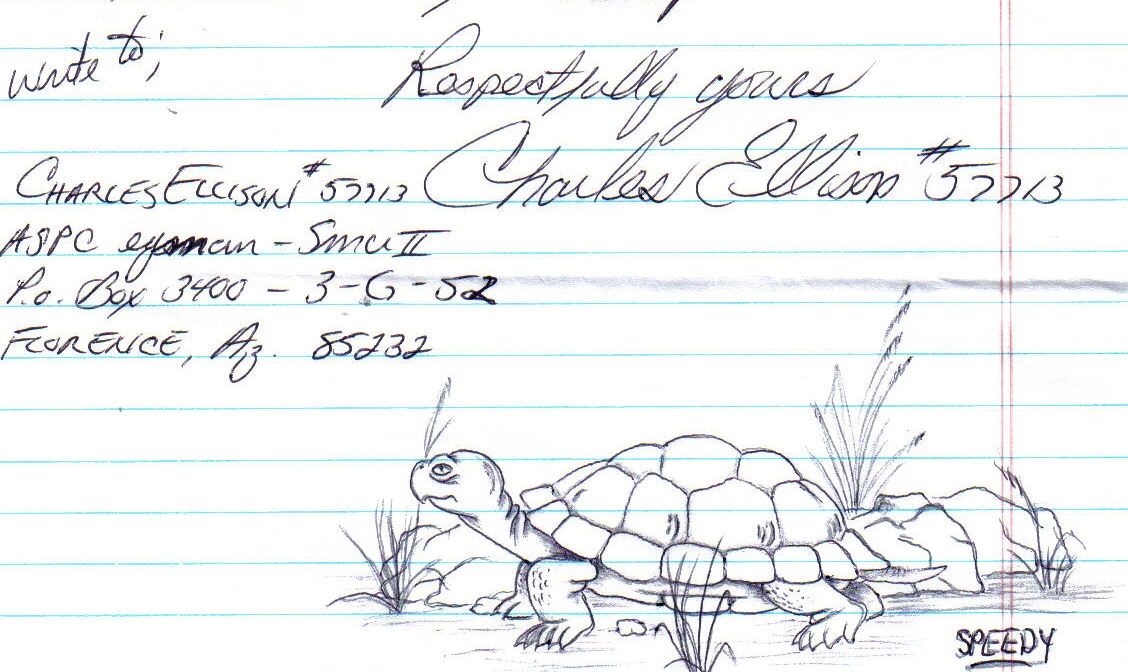 Hi.
Mein Name ist Charles Ellison aber alle nennen mich Charlie. Ich bin hier im Todestrakt in Arizona. Ich bin erst seit 16 Monaten hier. Erlaube mir, mich und meine Interessen kurz vorzustellen. Deine Interessen liegen hoffentlich gleich.
Ich bin 1,75 (1/2) groß, wiege ca. 76 kg. Ich habe kurzes, braunes Haar und haselnussbraune Augen. Ich wurde am 03. Juli 1965 geboren. Bin 39 Jahre jung und ich habe überall, vom Hals bis zu den Zehen, Tatoos. Ich bin ein Tatoo-Künstler sowie Künstler von Beruf. Meine Hauptbeschäftigung ist auf dem Bau und Landschaftsgestaltung. Ich lese gerne Bücher wie Action-geheimnisvoll-spannende Geschichten und ebenso erfreuen mich Western. Ich mag (liebe) Autos, Trucks und Motorräder und ganz besonders – du wirst es schon erraten haben – Harley Davidsons. Ich reise gerne (trampen) und bin gerne draußen. Natürlich kann ich vieles jetzt nicht mehr haben. Ich mag Gedichte aber selbst kann ich einfach keine schreiben. Ich zeichne WIRKLICH gerne für andere Leute, da ich hier drin lediglich einen Bleistift und einen Füller haben darf. Hey, wenn Sie gerne super gemachte Kunst und einen neuen Freund haben möchten, würde ich mich sehr darüber freuen, wenn ich etwas von Dir höre, denn ich könnte jetzt einen Freund gebrauchen.
In Erwartung auf eine neue Freundschaft
Respektvoll Dein
ASPC -Smu II
P.O. Box 3400 – 3 – G – 52
Florence, Arizona 85232
U.S.A.