H
I'm a soon-to be 32 year old SCORPIO that only wants to live life. Something that can't be done while trapped on death row. I'm a little over 5'9" and weigh 215 pounds. I keep my head shaved and have hazel eyes that change color time to time. I'm very honest about who I am. Though I am here for something it's been proved I didn't do, I know it was my choice of lifestyle that placed me in this situation. After so long trapped in a enviroment that forces a person to look within themselves I finally came to really know myself. And I also realized I needed someone, someone who understands the meaning of friendship.
I love reading books, something I never did before coming here. Being caged in this cell 22 hours a day ... books have opened my eyes to worlds and people I never dreamed of. I enjoy music, so my radio allows me to hear my favorite programs. Art & poetry allow me to express myself, while I work out to remain both fit and sane.
What else can I say in the limited space I have to convince you to take a chance on writing me ? Despite being here 10 years I'm still new at this asking for pen-pals. See for many years, after too many experience with pen-pals who were dishonest and burned me, I stopped trying to make new friends. But this left me feeling empty, so I've decided to try again. So I'm hoping that maybe one of you reading this will be a sincere, honest person serious about looking for a new friend.
I don't place limits on my friendship. Male or female, if you are open minded, truthful, and willing to share part of your life with me as I share mine with you, I would enjoy hearing from you.
I won't keep you any longer, but I do want to thank you for taking a few minutes to be with me.
Seeking a friend .... Tony
Tony Medina # 999204
Polunsky Unit D.R.
3872 FM 350 South
Livingston - Texas 77351
U.S.A.

(mit 17 Jahren)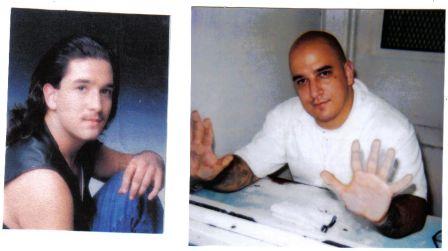 ERINNERUNGEN von Tony Medina

Ich lebe in Erinnerung,
Gefangen in meinen Gedanken,
Von süßen Nächten und Sommern.

Wie Bilderrahmen an der Wand,
Singende Straßensirenen rufen,
Sie zeigen mich aufsteigend, sie rufen.

Sie heben mich aus meiner Zelle,
Weg vom Leben in der Hölle,
Ein Chaos, dass ich nur zu gut kennengelernt habe.




Juni 2006
Wie kann ich Ihnen in nur 100 Worten sagen, wer ich bin? Wie kann ich Ihnen erzählen, was ich suche, wenn ich es selbst nicht weiß? Ich sollte sicherlich mit einem warmen Gruß, also lassen Sie mich Hallo an alle sagen. Es sind diese Situationen, in denen ich mir wünsche ich hätte ein Buch, das mir zeigt, wie man solche Anzeigen schreibt. Mein Name ist TONY MEDINA und ich werde seit September 1996 in diesem Warenhaus – dem Todestrakt von Texas – gelagert und versuche zu überleben wie so viele andere, in einem System das darauf ausgerichtet ist, meinen Überlebenskampf zu beenden.

Ich bin ein fast 32-jähriger Scorpion, der einfach nur sein Leben leben möchte. Etwas, das man nicht tun kann, wenn man im Todestrakt gefangen gehalten wird. Ich bin etwas über 1,75 Meter groß und wiege 98 kg. Ich habe meine Haare abrasiert und habe braune Augen wobei deren Farbe sich von Zeit zu Zeit verändert. Ich bin sehr ehrlich, wenn es um mich geht. Obwohl ich hier schon längere Zeit bin ist es erwiesen, dass ich nicht getan habe, wofür ich hier sitze. Es war mein Lebensstil, der mich hierher gebracht hat. Nachdem ich so lange in einer Umgebung gefangen gehalten werde, die einen Menschen dazu bringt, über sich selbst nachzudenken, habe ich mich wirklich gut kennen gelernt. Auch habe ich bemerkt, dass ich jemanden brauche, jemanden, der die Bedeutung von Freundschaft kennt.
Ich liebe es, Bücher zu lesen wobei ich, bevor ich hierherkam, nie gelesen habe. Eingesperrt in diesem Käfig, 22 Stunden täglich… haben Bücher meinen Blick für die Welt und Menschen geöffnet. Etwas, was ich nie für möglich gehalten hätte. Ich höre gerne Musik und mein Radio erlaubt mir, meine Lieblingssender zu hören. Durch Kunst und Poesie kann ich mich ausdrücken und ich trainiere, damit ich sowohl fit als auch geistig gesund bleibe.
Was kann ich auf der begrenzten Fläche sagen um Sie davon zu überzeugen, mir zu schreiben. Obwohl ich hier bereits seit 10 Jahren bin, ist es dennoch neu für mich, nach einem Brieffreund zu suchen. Denn für viele Jahre habe ich aufgehört, Brieffeunde zu suchen, die unehrlich waren und mich ausgebrannt haben. Aber das hat ein Leere hinterlassen, sodass ich es erneut versuche. Also hoffe ich, dass vielleicht einer, der das liest, ernsthaft ist, ein ehrlicher Mensch, der ernsthaft einen neuen Freund sucht.
Ich beschränke meine Freundschaften mit nichts. Männer oder Frauen – wenn Sie offen und ehrlich sind und gewillt, einen Teil Ihres Lebens mit mir zu teilen, so wie ich meines mit Ihnen teilen werde, würde ich sehr gerne von Ihnen hören.
Ich werde Sie nun nicht länger aufhalten, aber ich möchte Ihnen dafür danken, dass Sie einige Minuten mit mir verbracht haben.

Suche einen Freund…. Tony