Terry Edwards #999463
POLUNSKY UNIT D/R
3872 FM 350 South, Livingston,
TEXAS 77351 U.S.A.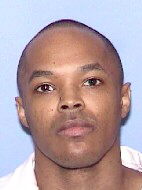 March 2004
Dear Readers,
I was born 8/10/73. I've lived in Dallas my entire life. Graduated from Madison H.S. in 1991. Attended Texas Southern Univ. in the fall of 1991 but returned home for financial reasons. I was raised by my grandmother & grew up in one of the roughest neighborhoods in Dallas but was never caught-up in too much. I was never and never will be a violent person. I've made lots of mistakes because of bad judgement. This being the worst by far. I have 3 girls and 1 boy. Ages 3-11 with my son being the oldest.
As I am new to this I don't know really what I should say but I look forward to you writing me back so that we can establish ourselves as friends.
Well until next time God bless you and your family.
Sincerely,

Terry Edwards

März 2004

Liebe Leser,
ich bin am 10. August 1973 geboren. Ich habe mein ganzes Leben in Dallas gelebt. Meinen Abschluss habe ich 1991 an der Madison H.S. gemacht. Dann im Herbst 1991 habe ich die Texas Southern University besucht, musste dann aber aus finanziellen Gründen wieder nach Hause. Ich wurde von meiner Oma groß gezogen und bin in einer der schlimmsten Gegenden in Dallas aufgewachsen wurde aber nie in zu schlimme Dinge verwickelt. Ich war nie eine gewalttätige Person.
Ich habe viele Fehler wegen meinem schlechten Urteilsvermögen gemacht. Dies ist aber bei weitem das Schlimmste. Ich habe 3 Mädchen und einen Jungen. Sie sind zwischen 3 und 11 Jahren alt und mein Sohn ist der älteste.
Da das alles neu für mich ist weiß ich nicht richtig was ich sagen soll aber ich freue wenn Du mir zurück schreibst damit wir eine Freundschaft aufbauen können.
Nun bis zum nächsten mal möge Gott Dich schützen und deine Familie.
Aufrichtig,

Terry Edwards