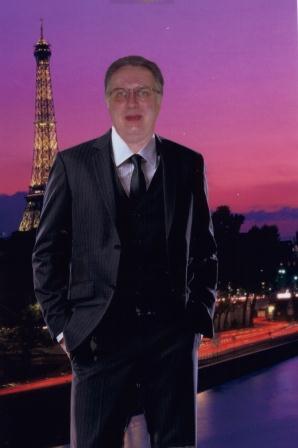 Greetings! My name is Patrick Henry Murphy Jr., I am writting this letter because I am looking to meet some new and interesting people. I enjoy meeting and talking with those of various and different backgrounds. In the end my hope is hat to become friends with a few people, to brighten each others lives, to share our burdens, to lend an ear to listen to just be a friend. And to bring warmth and happiness to my world of concrete and cold steel.
So exactly who is Patrick Murphy? Well I have been lots of things since my birth on Oct. 3, 1961. I have worn many different uniforms during my 45 years on this Earth. I have been a soldier, an electrician, a carpenter, and many other trades. But the uniform I am currently wearing is that of a prisoner on Texas Death Row for 3 years, since 2003. But I have been in prison since 1984. I freely admit that when I was free I was not the most upstanding citizen, nor a very good husband/father. I was married and divorced before I even turned 18, and married my second wife at age 19. I have 2 children both are grown and have no contact with their incarcerated father.
My parents divorced when I was 2. I spent the next 8 years with my mother and a series of abusive step fathers, boy-friends, and one-night stands. I had to learn how to look and take care of a baby, on my brother, sister, and I would have gone hungry more often. We also lived with my mothers parents on several different occassions. The years with my grandparents are some of my best childhood memories. The years with my mother and step-fathers were a source of nightmares.
At the age of 10 I went to live with my father, but I was already a rebellious-problem child, with barely passing grades in school. It took my loving step-mother several years to instill a love for knowledge and education that still grows today. Even though I have only a GED, I have earned almost 70 hours of college credits.
It is said that we learn from our mistakes. But I seem to be destined to continually make mistakes in this life. At almost every mayor crossroads of my life I always choose the wrong path, then could not find my way back to straighten out the mess that I had made.
Within these walls I have very limited interests which include reading, writing letters, and listening to the radio. Ma radio has become my sole link to the outside world. I receive my national and world news on National Public Radio and BBC. I enjoy all types of music such as classical, blues, jazz, rock+roll, country western, hip hop, alternative even some rapp. My radio is on whenever I am awake. I am a prolific reader, able to read 500 pages a when desired. I have recently rediscovered the classics by Poe, Dickens, Dumas, and others. I also practice Yoga and meditate daily to improve my spirit, soul and body.
I would like to meet new people, perhaps even become friends, to find some relief from these ever-confining walls, relief from intense loniness which threatens to overwhelm me at times.
I will respond to all letters.
With warm prayers and kind regards
please leave a postal address for response. Thank you
April 2007