Mr. Kenneth E. Foster Jr.
Texas has been set an execution date for August 30, 2007 - Gov. Perry commuted his sentence to life in prison 7 hours before Kenneth scheduled execution.
Ghost hanging from my trees

In the journey of life, one thing I can say...

Durch die Reise des Lebens kann ich eines sagen,...

Dear Friends,

I wanted to take out some time to address several issues ... Sept. 2004

Liebe Freunde, ich wollte mir Zeit nehmen um einige Themen anzusprechen... Sept. 2004
January 8, 2004
Through my journey here on death row I have been blessed to find my voice within and through this voice I manifest the pain, growth, spirituality and love through poetry. The following poem is from my first poetry book " Tribulation's Eyes. " You can learn more about this book by loging on to my web-site: www.kennethfoster.de and go to my "Poetric Essence" section.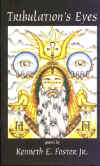 Durch meine Reise hier im Todestrakt, bin ich gesegnet worden meine innere Stimme zu finden und durch diese Stimme manifestiere ich Schmerz, Wachstum, Spiritualität und Liebe in Poesie. Das folgende Gedicht ist aus meinem ersten Gedichtsbuch " Tribulation's Eyes. " Indem sie sich unter www.kennethfoster.de einloggen und zu der Sektion Poesie gehen, erfahren sie mehr über dieses Buch.
Ghost hanging from my trees
The leaves have withered up
and the oak becomes petrified
eyes now become stone
and my body a bit terrified
I see weary faces
that appear to me spontaneously
everyday I know I'll be visited
by your valuable memories
In the corner of my eyes
I can see you in the shadows
and as the wind hits my ears
I can hear your whispers so shallow
You watch my every step
your cold glares turn me into a victim
invading my mind with our own Texas holocaust
I wish I couldn't - but I'll always remember
I've got ghost hanging from my trees
that give me serious looks
they penetrate my soul
and make me remember what they took
the families that now suffer
the friends that stood by my side
precious lives that deserved to be spared
consumed by the killing machine line
the spirits that were lost
haunt my mind everyday
invading my dreams and thoughts for a resting place
I never miss what they have to say
As I look out my window to see a sign of hope
I see no blooming leaves
the only thing that I see
is ghost hanging from my trees
By Kenneth E. Foster
In the journey of life, one thing I can say we all search for is genuine friendship. No matter of race, gender or even the physical restrictions in which I fight against, we all would to share dreams, hopes or just pieces of compassion with someone. This type of writing process has shown to be a very challenging thing, but even in the face of what the system calls the worse of the worse we continuously see minds become nourished and spirits blossom.

My name is Kenneth Foster Jr. and I humbly consider myself a prisioner activist, not only because of my fight towards my Injustices, but also fighting against the stigmas placed on every single man here. Through all of the writing I've done, one thing I know a person must do in their writing is be honest and sincere. Even from the good to the bad, we all as people must be open and understanding to each others needs, feelings and experiences, otherwise our society will continue to hurt.

For a long time now I have been dedicated to breaking down these stereotypes and also bring what true awareness I can to this Injustice system and Texas Death Row and I would consider it a blessing to create these forms of communication with anyone interested out there with taking a chance. So, I send this small extension of a greeting to you. During my of trials and tribulations I do recognize that help comes in many forms - some Mentally, Spiritually and Physically - and where positive and sincere intensions exist many great things are possible. I'm grateful for people like this who are committed to the fight for human rights who provide space for strugglers like myself for free. It's because of people like this that we are able to be heard and create change. I do hope bridges can be formed.

Peace and Love!

Kenneth Foster Jr.

Durch die Reise des Lebens kann ich eines sagen, dass wir alle nach echter Freundschaft suchen. Egal welche Rasse, Geschlecht oder gar physikalischer Einschränkungen, wogegen ich kämpfe. Wir alle möchten Tröume, Hoffnungen oder nur ein bisschen Mitgefühl von jemandem. Diese Art zu schreiben ist eine Herausforderung, aber trotz der Tatsache, dass das System uns die Schlechtesten der Schlechten nennt, sieht man immer wieder gehegte und aufkeimende Gedanken.

Mein Name ist Kenneth Foster Jr. und ich nenne mich bescheiden einen Gefangenenaktivist. Nicht nur wegen meines Kampfes gegen mir entgegengebrachte Ungerechtigkeit sondern gegen all die Stigmas, die jedem Mann hier drin auferlegt werden. Durch all meine Schreiben weiß ich, dass man eines sicherlich tun muss. Man muss ehrlich und aufrichtig sein, immer, im Guten wie im Bösen, wir alle müssen offen und verständnisvoll gegenüber den Bedürfnissen, Gefühlen und Erfahrungen sein, sonst wird unsere Gesellschaft weiterhin schmerzen.

Seit langem widme ich mich diesen Stereotypen und möchte die Ungerechtigkeit im System des texanischen Todestrakts aufzeigen. Ich betrachte es als einen Segen, diese Form der Kommunikation mit jedermann, der Interesse zeigt, zu haben. Daher schicke ich diese erweiterte Begrüßung an Dich. Während meiner Verhandlungen und Arbeiten habe ich bemerkt, dass Hilfe in vielen Formen kommt - manche mental, spirituell und physisch - und wo positive und ehrliche Vorhaben sind, ist plötzlich alles möglich. Ich bin dankbar für Menschen, die sich für die Menschenrechte einsetzen und ohne finanziellen Hintergrund Zeit aufbringen. Wegen dieser Leuten können wir gehört werden und Änderungen erreichen. Ich hoffe, dass Brücken gebaut werden können.

Friede und Liebe!

Kenneth Foster Jr.
September 2004
Dear Friends,
I wanted to take out some time to address several issues and comments given inregards to the latest situation that befell me. First, let me thank all of you who did give comments either directly to me or to friends of mine. Regardless, if they were supportive or constructive criticism they are all things that need to be expressed so that all those involved in this anti-death penalty movement can better grasp the true depths of it. I open up my personal life to you all not because I have to, but because I choose to and because I feel I must play a role in adding to the change and awareness that I wish to be. Understand that this is not a debate or a justification to anything. These are the thoughts and views of a person who is actually living this day to day. No matter how much a person reads about this place or writes to someone here one cannot 100% say that this or that should be done, because once you are in the shoes you will walk a whole new path.
It`s important for you all to understand that this was not an unconscious "breaking point." I did not go into a "fit or rage" and act out. I made a conscious decision to do what I did and at each step I made sure that the Administration knew that. As I stated, I intelligently articulated what my protest was. Just as the activist Stokely Carmichael said- " In order to get the right answers, one must pose the right questions. In order to find effective solutions, one must formulate the problem correctly." That was my first step, because the purpose was not to simply "go off", but to show how their system has gone so haywire that they themselves have created this situation (which they did).
It was stated that this "benifited nobody – no good comes out of this and now I`m on level 3." Then it was stated that i love recreation and now can only go 3(actually it`s 4) times a week. I disagree with this analogy. While I do value my recreation time – you know what I really love? Being treated like a human being, being free from sensless provoke and abuse! That`s what I love and nothing is above that to me. Many of you know the story of Nelson Mandela. He spent 27 years in cells more decrepit than this. He lost his priviledges for protesting conditions and even once when a manuscript he was writing was founf. His position, and I share this, was:
"The grave plight of the people compels them to risist to the death the stinking policies of the gangsters that rule our country. To overthrow oppression has been senctioned by humanity and is the highest aspiration of every free man."
Surely many thought Mandela´s protest did no good, and while it took approx. 30 years South Africa broke free from Apartheid, Martin Luther King Jr. Also stated that people should do what`s right because it`s right, not because it`s popular. Friends, the point is I stood in the face of injustice so it was good for me and the others that saw it. We`ve been on this unit for 4 years now and we`ve filed legal work, petitions. We`ve had family, friends and supporters protest in front of the Unit. We`ve protested inside with hunger strikes and lay downs. It is true that not much has changed, but progress doesn`t come over night. I can endure solitary, because while they can take superficial material items they can`t take my integrity and dignity as a human. And so if that is for nothing than my humanity is for nothing.
My disciplinary record was spoken about. I kind of laughed a bit when it was stated that they felt 7 or 8 disciplinary cases were a lot, but I realize not many of you know the childish and immature games played by officers here. The cases I have had have been petty and miscallaneous – far from anything that would constitute being a "continual threat." I will share with you my cases.
- my first disciplinary case was in 1997 – failure to grrom my facial hair
- 2nd case 1998 failure to groom
- 3rd case 1998 disobeying a direct order (basically this was me and an officer disagreeing on where I was supposed to be. I was on the work program at the time and she felt I was out of place, which I wasn`t because I was inline waiting on a shower).
- 4th case-2001-failure to answer an officers question (we held a small protest of refusing to verbally state our TDC#'s. This is not a rule, but is a tactic used by officers as convience, rather than reading our ID cards and to dehumanize us. Basically, it`s like – you are a number not a person).
- 5th case – 2002 – failure to groom (this was the case that sent me to solitary for the 1st time. You see, shaving is a tactic used by TDC to horass inmates. You could have the slightest stubble and they will be on you as if you were carrying a weapon. Think- in other states men can grow beards and their hair. O, what is the purpose of such a rule? It`s a tool to oppress. If the world would think I`m dangerous for having a mustache then I`d think we`ve all gone mad).
- And my last case was this situation here.
Let me explain to you the prison guard mentality. They look at us as less than human. They expect that when they say "jump" we say "how high." They feel that whatever they say or ask is suppose to be responded to immediately. This is an old slavery mentality. When the slave over-seer said do something you were to do it immediately or you`d be beaten. Prisons are mirror images of slave plantations, most prisons are called plantations or farms due to its agriculture set up and the slave labor of working inmates mirror slavery completely. So does the mentality. Disciplinary cases are written as easily as this – "Inmate shut up." "You can`t tell me to shut up. You shut up." "Ok, we`ll see." "Ok, you touch me and you`ll regret it." From that simple exchange an officer can write a case saying "Inmate threatend an officer." I want you to keep in mind how many officers talk to us here. They talk to us in demeaning ways. They threaten us, tell us we`re going to die with needles in our arms. So be conscious of what we endure. Now, compare my disciplinary record to the assault cases, weapon cases and drug cases (by the way I`ve had 3 urine test all of which I`ve passed because I don`t indulge). There`s so many other cases that I could have accumulated, but I have refrained from such behaviors.
I think about if I was in a new punishment phase trial and allow that to act as an alarm for me. I also use this scenario to remind others here. I don`t believe this record will hurt me and I know I will refrain from other activities that would hurt me.
Will this case hurt me? It may. But, the fact is there is no way that "I" can be the aggressor against a 5 man riot team. The issue was brought up of how the 13 others on the section would feel the effects of the gas. I`ve felt the effects of others´gas as well. The bigger picture is- what effects are we feeling due to the conditions we are resisting? The gas effect last for a few minutes, these conditions have been yearly!
The bottom line is I took a chance to stand up for what I felt was right. For those what think this was frivolous- let me show you something. The day I went to court (remind you- after all this occured) I saw our death row captain(Wickershan). I told him what took place and what my stance was and shall be. He didn´t have time to talk and said he`d try to see me later. Surprisingly, he popped up at my cell yesterday(8/30). Then we had about a 35 minute talk. This was not a Captain to inmate talk this was a man to man talk. I told him the situation and went deeper. I explained to him the mentality of his good and bad officers. I explained to him the mentalities of death row inmates- the good, the bad, the hopeless,.the hopeful. I knew he had never been given a talk like this due to the way he`d look up at me when I made certain statements. I then spoke on him directly as a Captain and his policies that are creating a bad environment. I could tell this man appreciated what I was telling him. I showed him how some of us speak to his officers with respect and intelligence, that not all of us cuss and rave. I told him- I know your officers don`t respect us, but just don`t disrespect us. Let us be.
Who of you can put a value on that talk? Who`s to say what effects it will have? These issues are not civil rights issues- these are sneaky underhanded tactics that are used. This is what you fail to see about prisons- they are criminal in itself. They are not designed for rehabilitation. There are approximately 2 million people incarcerated in U.S. prisons. Hate, violence, ignorance and despair is bred in here. To empty the prisons is to empty the billion dollar industry it is and to let loose of their genocidal plans. Thus, prison sentences stay high and decay promoted on the inside.
For those that don`t know- I constantly write about prison, political and social issues. Ask Petra Richter of ALIVE- the many articles I`ve written for her newsletter and the articles I have on my web-site. Also, the monthly column I write for the Paul Rougean Committe in Italy (which I`ve been doing for almost 2 years now). I`m always active and doing things, so please read my sites before prejudging.
The fact is- The Texas anti-death penalty movement is hurting. The outside support we need is not as great as it should be. This letter is not the appropriate place to discuss why, but I thorougly analyze these groups and their activities. For those that don`t know, my grandfather participates in rallies and so on. So, the lack of certain support is not because we aren`t trying. But, that is for a different discussion.
If we had the proper voices going out to society the type of protest I did would not seem to promote the image that we are monsters and animals, because then the people in society would see where the problems are starting. The need to "protest"/"resist" like this is needed at times otherwise these officers will continue to think that we are here to be their door mats.
You see, officers are like predators in the jungle.They lay and wait – watching the herd- looking for the weakest in the herd; and once they spot it they go and attack it. I refuse to be their prey and it`s difficult to do that without just going extremly violent, thus this medium stance. Gandhi said- "if cowardice is the only alternative to violence, it is better to fight." Martin Luther King Jr. Expressed the same thing when he said- "if peace means being quiet in the face of injustice – you can keep your peace."
This is really all I can say. I stand on all the principles offered by the great men I`ve quoted to you. This time down here will not be spent "miserably", because I will use my time wisely as I always do. I am already working with brothers I haven`t seen in a long time, giving them input and info to help themselves. It`s all about how you look at these things my friends. Adversities can be seen as stumbling blocks or stepping stones. I don`t allow this to be a time of "woe is me", but a time to enlighten and inspire. The war against us here is not just legally to kill us, but mentally, spiritually and physically. Would it not be best to oppose the forces that would drive us to self-murder than to endure them?
These are things for you to think about as I have already found the answer. For those thinking about the video- if I can get a copy of it I`ll make sure a copy is available. It would be an extreme wake-up call. I could have wrote a book on this subject. Maybe I should J. Maybe we should. But, I must close. Thank you all for your concerns in each and every fashion that it was expressed.
I will take care, remain strong and focused. Peace, Love and God`s blessings.
In struggle I remain
Kenneth
Sreptember 2004
Liebe Freunde,
ich wollte mir Zeit nehmen um einige Themen anzusprechen und Aussagen zur Situation, in der ich bin, zu kommentieren. Zuerst möchte ich all denen danken, die mir oder meinen Freunden geschrieben haben. Egal, ob die Kommentare konstruktiv oder kritisch waren, alles muss beredet werden, damit alle, die in der Anti-Todesstrafe-Bewegung involviert sind, die Tiefe begreifen können. Ich öffne Euch allen mein persönliches Leben nicht, weil ich es muss, sondern weil ich es möchte und weil ich glaube, dass ich eine Rolle darin spielen möchte, wenn sich die Dinge und das Bewusstsein ändern. Verstehen Sie bitte, dass dies nicht eine Diskussion oder Rechtfertigung für irgendetwas ist. Dies sind die Gedanken und Ansichten eines Menschen, der das täglich lebt. Egal, wie viel ein Mensch über diesen Ort liest oder jemandem hier drin schreibt, man kann nicht 100%ig sagen, man soll dies oder das tun, denn nur, wenn Sie einmal in den Schuhen stecken, werden Sie einen ganz neuen Weg gehen.
Für Sie alle ist es wichtig, dass das kein unbewusster Wendepunkt war. Ich war nicht in einer "passt oder ich drehe durch" Situation und habe es getan. Ich habe eine bewusste Entscheidung getroffen und tat, was ich getan habe und in jedem Schritt stellte ich sicher, dass die Leitung wusste, was ich mache. Wie ich schon gesagt habe, habe ich intelligent beschrieben, wogegen ich protestiere. Wie schon der Aktivist Stokely Carmichael gesagt hat – "um die richtige Antwort zu bekommen, muss die richtige Frage gestellt werden. Um richtige Ergebnisse zu bekommen muss das Problem korrekt formuliert werden". Das war mein erster Schritt, denn ich wollte nicht nur einfach durchdrehen, ich wollte zeigen, wie IHR System so durchdrehte und sie selbst haben diese Situation so gemacht (das haben sie). Es wurde gesagt, dass dieser "begünstigte Niemand – es kommt nichts gutes dabei heraus und ich bin jetzt im Level 3". Dann wurde gesagt, dass ich Erholung mag und jetzt kann ich nur noch 3-mal (eigentlich sind es 4-mal) in der Woche gehen. Ich stimme dem nicht zu. Ich mag zwar meine Erholungszeit – aber wissen Sie, was ich wirklich mag? Wenn ich wie ein menschliches Wesen behandelt werde, frei von sinnlosen Provokationen und Missbrauch! Das liebe ich und nichts liebe ich mehr. Viele von Ihnen kennen die Geschichte von Nelson Mandela. Er verbrachte 27 Jahre in einer Zelle, älter als diese hier. Er verlor seine Privilegien weil er protestierte und einmal sogar, als man ein Manuskript fand, welches er geschrieben hatte. Seine Position, die ich teile, war:
"Die ernste Lage der Menschen zwingt sie bis in den Tod, der stinkenden Politik der Gangster, die unser Land regieren, entgegenzustehen. Unterdrückung wird von Menschlichkeit besiegt und ist für jeden freien Mann das Ziel".

Sicherlich waren viele Proteste Mandelas sinnlos aber auch, wenn es etwa 30 Jahre dauerte, Süd Afrika hat sich von der Apartheid distanziert. Auch Martin Luther King Jr sagte, dass die Menschen das richtige tun sollen weil es richtig ist und nicht, weil es gerade modern ist. Freunde, der Punkt ist, dass ich der Ungerechtigkeit gegenüber stand, und so ist es gut für mich und diejenigen, die es gesehen haben. Wir sind in dieser Gruppe seit 4 Jahren und wir reichten rechtliche Akten und Petitionen ein. Familie, Freunde und Mitstreiter protestierten vor dem Gefängnis. Wir haben von hier aus mit Hungerstreiks und Liegestreiks protestiert. Es ist wahr, nicht viel hat sich geändert, aber Fortschritt kommt nicht über Nacht. Ich kann die Einzelhaft ertragen, denn auch wenn sie ganz moderne Möglichkeiten haben, sie können mir nicht meine Integrität und Würde zu nehmen. Und wenn das alles nichts bedeutet, so bedeutet meine Menschlichkeit nichts. Meine disziplinäre Aufzeichnung wurde angesprochen. Ich musste ein wenig lachen, als sie sagten, 7 oder 8 disziplinäre Verweise seien viel, aber ich bemerkte, dass viele von Ihnen nicht wissen, was für kindische und unreife Spiele hier von dem Wachpersonal gespielt werden. Meine Disziplinarverfahren waren unterschiedlich und geringfügig – weit entfernt von irgendetwas, was als andauernde Bedrohung eingestuft werden könnte. Ich werde Ihnen meine Fälle mitteilen:

- mein erstes Disziplinarverfahren war 1997 – versäumt es, sein Gesichtshaar zu rasieren
- 2. Verfahren 1998 – versäumt Gesichtshaar zu rasieren
- 3. Verfahren 1998 – gehorcht nicht einem direkten Befehl (im Grunde ging es darum, dass eine Beamtin und ich verschiedener Meinung darüber waren, wo ich stehen sollte. Ich war im Arbeitsprogramm und sie sagte, ich stehe nicht in der Reihe, was nicht stimmte, ich war in der Reihe und wartete darauf, zu duschen).
- 4. Fall 2001 – versäumte, eine von einem Beamten gestellte Frage zu beantworten (wir protestierten ein wenig dagegen, unsere Todestraktnummer aufzusagen. Es ist keine Regel, sondern eine von den Beamten angewandte Taktik, weil es angenehmer für sie ist, weil sie die Nummern nicht lesen müssen und uns entmenschlichen können. Im Grunde ist es "du bist eine Nummer, kein Mensch").
- 5. Fall – 2002 – versäumt sein Gesichtshaar zu rasieren (in diesem Fall kam ich zum ersten Mal in Einzelhaft. Sehen Sie, rasieren wird von den Wärtern eingesetzt, um Häftlinge zu unterdrücken. Wenn sie nur einen kleinen Stoppel stehen lassen, sind sie an dir dran, als ob du eine Waffe trägst. Denken Sie mal, in anderen Staaten können die Männer Bärte tragen und die Haare wachsen lassen. Oje, was soll so eine Regel? Es ist ein Mittel der Unterdrückung. Wenn die Welt glaubt, dass ich gefährlich bin, nur weil ich einen Bart trage, so wären wir alle verrückt).
- Und mein letztes Disziplinarverfahren war wegen folgender Situation:


Lassen Sie mich Ihnen die Mentalität der Wärter erklären. Sie sehen uns als etwas Geringeres als menschlich. Sie erwarten, wenn sie sagen "spring", so fragen wir "wie hoch". Sie denken, egal was sie sagen oder tun, wir reagieren sofort. Dies ist eine alte Sklavenmentalität. Wenn der Sklavenaufseher irgendetwas sagte, musstest du es sofort erledigen oder du wurdest geschlagen. Gefängnisse sind Spiegelbilder von Sklavenplantagen; die meisten Gefängnisse werden Plantage oder Farm genannt aufgrund der Lage und die Arbeit spiegelt die Sklaverei vollkommen wieder. Auch die Mentalität. Disziplinarverfahren werden so schnell angeordnet, z. B. dann: - "Häftling, halt die Klappe". "Sie können nicht so etwas zu mir sagen. Halten doch Sie die Klappe". "OK, wir werden schon sehen". "OK, fassen Sie mich an und Sie werden es bereuen". Aus einem solchen einfachen Wortwechsel entsteht kann der Wärter ein Verfahren einleiten, indem er sagt "Häftling hat einen Beamten bedroht" Denken Sie daran, wie viele Beamte hier mit uns reden. Sie reden in erniedrigender Weise mit uns. Sie drohen uns, sagen uns, dass wir sterben werden mit einer Nadel im Arm. Denken Sie darüber nach, was wir aushalten. Nun vergleichen Sie meine Disziplinarverfahren mit den Fällen von Angriffen, Waffen und Drogenfällen (übrigens hatte ich 3 Urintests, die ich alle bestanden habe, weil ich nichts nehme). Es gibt so viele andere Fälle, in denen ich was machen könnte, aber ich ziehe es vor, mich so nicht zu benehmen. Ich denke darüber als wenn ich in einem neuen Strafabschnitt wäre und lasse mir das eine Lehre sein. Ich nütze den Vorfall auch, um andere hier drin aufmerksam zu machen. Ich glaube nicht, dass die Liste der Disziplinarverfahren mir schaden können und ich werde von anderen Aktivitäten, die mir schaden könnten, fern bleiben.
Wird dieser Fall mir schaden? Vielleicht. Aber Tatsache ist, dass nicht ich der Aggressor gegen ein 5-Mann-Kampf-Team sein kann. Das Thema wurde angesprochen, um herauszufinden, inwieweit die 13 Mithäftlinge in der Abteilung von dem Gas betroffen waren. Auch ich habe die Auswirkungen von Gas aus anderen Zellen gespürt. Das wichtigere Thema ist – welche Auswirkungen haben die Bedingungen hier drin, die wir ertragen müssen? Die Auswirkung des Gases dauern ein paar Minuten, diese Bedingungen bestehen das ganze Jahr!

Was zählt ist, dass ich die Chance nutzte um für das, was richtig ist, aufzustehen. Und diejenigen, die denken, dass das leichtfertig war, möchte ich etwas sagen. Am Tag als ich zum Gericht ging (erinnern Sie sich – nachdem all dies geschehen ist) sah ich unseren Todestrakt-Captain (Wickershan). Ihm erzählte ich, was geschehen ist und wie ich dazu stehe. Er sagte, dass er im Moment keine Zeit hätte, aber er würde später mit mir darüber sprechen. Überraschenderweise kam er gestern einfach in meine Zelle (30.August). Wir sprachen dann über 35 Minuten. Das war kein Gespräch zwischen Captain und Insasse sondern ein Gespräch von Mann zu Mann. Ich erklärte ihm die Situation und ging noch tiefer. Ich erzählte ihm ein wenig über die Einstellung seiner guten und schlechten Beamten. Ich erzählte ihm die Einstellung von Todestrakthäftlingen – die guten und die schlechten, die hoffnungslosen, die hoffnungsvollen. Ich weiß, dass nie jemand zuvor so mit ihm gesprochen hat, weil er mich nach einigen Kommentaren so seltsam ansah. Dann sprach ich mit ihm als Captain über einige Vorgehensweisen, die für eine schlechte Atmosphäre sorgen. Ich konnte sehen, dass er schätzte, dass ich ihm das erzählte. Ich zeigte ihm, dass einige von uns die Beamten mit Respekt und Intelligenz ansprechen und nicht alle von uns fluchen und randalieren. Ich sagte ihm, dass mir bekannt ist, dass seine Beamten uns nicht respektieren, sie uns aber einfach nicht mit Respektlosigkeit behandeln sollen. Laßt uns nur in Ruhe.

Wer von Euch kann dieses Gespräch einschätzen? Wer kann sagen, was für Auswirkungen es hat? Dies sind keine Zivilrechtlichen Angelegenheiten – dies sind unterschwellige Taktiken, die hier angewendet werden. Das ist, was Sie nicht sehen an einem Gefängnis, denn sie sind in sich schon kriminell. Sie wurden nicht gemacht um zu rehabilitieren. Es gibt ungefähr 2 Millionen Häftlinge in Amerikanischen Gefängnissen. Hass, Gewalt, Ignoranz und Verzweiflung wird hier erzeugt. Um die Gefängnisse zu leeren müsste man die Billionen Dollar Industrie, die sie sind, und bitten von ihren Plänen abzulassen. Außerdem bleiben so die Strafen hoch und der Verfall wird von innen genährt.

Für diejenigen, die es nicht wissen – ich schreibe ständig über Gefängnisse, politische sowie soziale Themen. Fragen Sie Petra Richter von ALIVE – die vielen Artikel, die ich schon für ihre Zeitung geschrieben habe und all die Berichte, die ich auf meiner WEB.Site habe. Auch schreibe ich für die monatliche Kolumne von Paul Rougean Komitee in Italien (schon seit 2 Jahren). Ich bin immer aktiv und bitte Sie, meine Seite zu lesen, bevor Sie mich verurteilen.

Tatsächlich hinkt die Anti-Todesstrafe-Bewegung. Die Unterstützung von außen ist nicht so gut, wie sie sein sollte. Dieser Brief ist nicht der passende Ort, um darüber zu diskutieren, aber ich habe diese Gruppen und ihre Aktivitäten sorgsam analysiert. Für diejenigen, die es nicht wissen – mein Großvater nimmt an Versammlungen und so weiter teil. Der Grund für die geringe Unterstützung ist nicht, weil wir uns nicht bemühen. Aber das ist ein anderes Thema.

Wenn wir die richtigen Stimmen zur Gesellschaft nach draußen hätten, so würden Proteste, wie ich ihn geführt habe, da draußen nicht dazu führen, dass jeder glaubt, wir wären Monster und Tiere, denn die Gesellschaft würde erkennen, wo das Problem anfängt. Die Notwendigkeit zu protestieren / sich widersetzen besteht, denn sonst denken die Wärter, dass wir ihre Fußabstreifer sind. Sehen Sie, die Beamten sind wie Fleischfresser im Dschungel. Sie liegen auf der Lauer und suchen nach dem schwächsten in der Herde; und wenn sie ihn entdeckt haben, greifen sie ihn an. Ich weigere mich, deren Beute zu sein, aber es ist schwer, wenn man nicht manchmal extreme Gewalt anwendet, obgleich das nicht richtig ist. Gandhi sagte: "wenn Feigheit das einzige Mittel gegen Gewalt ist, so ist es besser zu kämpfen". Martin Luther King Jr. Drückte sich ähnlich aus, als er sagte: "Wenn Frieden bedeutet, nichts gegen Ungerechtigkeit zu sagen – dann behaltet euren Frieden".

Das ist wirklich alles, was ich dazu sagen kann. Ich stehe zu all den vorgenannten Prinzipien, die uns große Männer geboten haben. Dieses Mal werde ich die Zeit hier unten nicht unglücklich verbringen, denn ich werde meine Zeit wie immer sinnvoll nutzen. Ich arbeite auch mit Brüdern, die ich lange nicht gesehen habe. Ich gebe ihnen Informationen und Hilfe, damit sie sich selbst helfen können. Meine Freunde, es kommt einfach darauf an, wie man die Dinge betrachtet. Missgeschicke können als Hindernisse oder Tretsteine gesehen werden. Ich werde die Zeit nicht als "oh, wer bin ich" sehen, sondern als eine Zeit der Erleuchtung und des Ansporns. Der Krieg gegen uns ist nicht nur der, uns zu töten, sondern auch seelisch, geistig und körperlich umzubringen. Wäre es nicht besser, den Kräften, die uns in den Selbstmord treiben, entgegenzutreten, als sie auszuhalten?
Über diese Dinge müssen Sie nachdenken, denn ich habe die Antwort bereits gefunden. Falls jemand gerne eine Videokassette hätte – werde ich auf jeden Fall eine Kopie bereitstellen. Das wird sicherlich ein Weckruf sein. Ich hätte ein Buch über dieses Thema schreiben können. Wahrscheinlich sollte ich das Ja. Vielleicht sollten wir eines schreiben. Aber ich muss jetzt aufhören. Ich danke allen für Ihre Aufmerksamkeit, in welcher Form auch immer sie mir zuteil wurde.

Ich werde acht geben, stark bleiben und konzentriert.
Friede, Liebe und Gottes Segen.

Im Kampf verbleibe ich

Kenneth

If you would like to learn more about me and plight, please go to:
Wenn sie mehr über mich erfahren wollen, bitte gehen sie zu: