Best videos on the theme
Upcoming Executions US
IMPRESSUM
Conditions on DR AZ, Ohio
Ohio Executionschedule
Visiting Death House
Arizona
Guestbook First 150 entries..
How to send money to an inmate account or write an e-mail:

An Execution Date set
Donnie Hulett
#1066274/G-House
P.O. Box 3877
Jackson, Georgia 30233
U.S.A.
For a first contact if you like DonnieHulettGA@deathrow-usa.com, please leave a postal address for response. Thank you.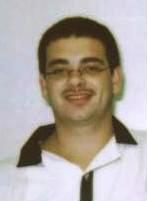 January 2007
Dear friends,
hi, how are you? Good, I hope. I would like to start by asking a question. Is today the best day it can be for you? If not, put it in your mind you are going to change whatever it takes to make it the best!! Because you are in control of what makes you happy! That is how I look at life. I've got no choice!! Because, if I stay negative, nothing positive will happen!!
Well to tell you a little bit about myself. I'm 25 years old "D.O.B. 4-16-81". I'm 5 foot, 10 inches tall. Black hair and hazel eyes. I love meeting new people. I'm not your everyday inmate, because I like to look at the positive in everything! I'm into music, art, animals, the outdoors, cars, motorcycles and have many other interests.
I'm looking for pen-pals that are positive and want a positive friendship!! I hope to meet people who know what they want in life. People who are open-minded. But I will write anybody who takes the time to write me!! Age, race, sex or religion doesn't matter. So if this is you, I hope to hear from you soon. If not, I hope your life is fruitful and everyday from this one on is great!! Until I hear from you…
Your friend
Donnie Hulett
Aka Bizno
Donnie Hulett
#1066274/G-House
P.O. Box 3877
Jackson , Georgia 30233
U.S.A.

Januar 2007


Liebe Freunde,

hallo, wie geht's Ihnen? Ich hoffe gut. Ich würde gerne mit einer Frage beginnen. Ist heute ein guter Tag für Sie? Wenn nicht, dann nehmen Sie sich vor, alles zu tun, damit es der beste Tag wird! Ich habe keine Wahl!! Denn wenn ich negative eingestellt bin, dann passiert überhaupt nichts Gutes!!

Also, um Ihnen ein wenig über mich zu erzählen. Ich bin 25 Jahre alt "Geburtsdatum 16.04.1981". ich bin 5 – 10 m groß, habe schwarzes haar und hellbraune Augen. Ich liebe es, neue Menschen kennen zu lernen. Ich bin kein gewöhnlicher Häftling, denn ich sehe gerne das Positive in allem! Ich mag Musik, Kunst, Tiere, die Natur, Autos, Motorräder und vieles andere.

Ich suche positive Brieffreunde und eine positive Freundschaft!! Ich hoffe Menschen zu treffen, die wissen, was sie im Leben wollen. Menschen, die offene Gedanken haben. Aber ich werde jedem schreiben, der sich die Zeit nimmt, mir zu schreiben!! Alter, Herkunft, weiblich/männlich oder Religion ist nicht von Belang. Also, wenn Sie das sind, hoffe ich, bald von Ihnen zu hören. Wenn nicht, dann hoffe ich, dass Ihr Leben erfolgreich ist und von heute an immer wunderbar!! Bis ich von Ihnen höre..

Ihr Freund
Donnie Hulett
Aka Bizno