David Lynn Carpenter #999300
Polunsky Unit
D/R

3872 F. M. 350 South
Livingston, T
exas 77351 – 8580
If you like an e-mail for the first contact: DavidCarpenter@deathrow-texas.com, Please leave a postal address for response.

July 2013 and a note from David: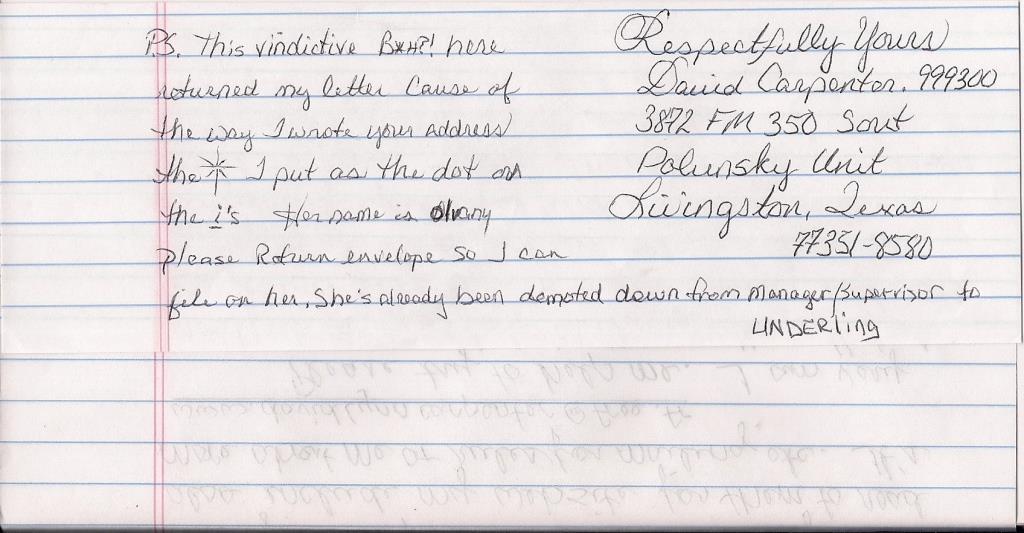 Online: http://davidlynncarpenter.free.fr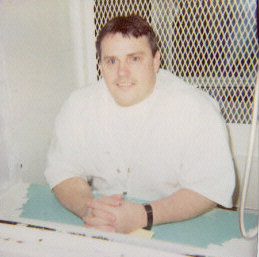 March 2004
I understand: English
I write: English
Age: 36
Birthday: 08/25/67
I was born David Lynn Carpenter to David & Diana L. Carpenter

. Raised in Mesquite and Dallas Texas until May of 1988,where at which time we moved to Willspoint Texas (East Texas).
I do have one little brother that now lives in Canton Texas. I
do have one little brother that now lives in Canton Texas. I
stayed at my parents until I found a place of my own in Dallas. I got into some trouble with friends and ended up in Prison.
When I was released in 1991 I paroled to my parents and again I went to Dallas to find work and a relationship, I met Mandee and we had two children together . I was-doing really good and my relationship fell apart, my girlfriend/wife was very possessive and controlling, which I tolerated cause I loved her. Then it finally fell apart and I missed a court date and a visit to my parole officer and I was revoked and sent back to prison on a violation in May of 1995.
The Justice department continued to set me off not allowing me to parole out again, and then In November of 1997 I was accused of a murder that took place back in August of 1991 (just a couple of months after my release on parole the first time).
I was sent back to Dallas where I awaited trial and then from testimony of this hostile ex girlfriend/wife Mandee. I was convicted and sent to Death Row where I wait my release or demise. I continue to proclaim my innocence.
I just want to get out of here and see and support my children and do what a father should do. I miss them terribly. I just want to be able to get out and work again and help my family that is not doing too well.
I
enjoy Music (mostly cause that is all that we can have in here). I like to read and write letters and meet new people. I have rode in the Mesquite Rodeo and done all kinds of things.
I was raised to be country and I guess it rubbed off on me. (smile) I like all kinds of music though, especially country and I also love classic rock and some new rock. I like even Pop. I guess as I said before, I like music, period. I would love to find some pen-pals that would enjoy corresponding with me. Thank you for reading my letter.
Homepage: http://davidlynncarpenter.free.fr
sent through: emma.pelois@free.fr
March, 2004
____________
David Lynn Carpenter #999300
Polunsky Unit D/R
3872 F. M. 350 South
Livingston, Texas 77351 – 8580
Ich verstehe Englisch
Ich schreibe Englisch
Alter: 36
Geburtstag: 25.08.1967
Ich, David Lynn Carpenter wurde als Sohn von David & Diana L. Carpenter geboren. Aufgewachsen bin ich in Mesquite und Dallas, Texas bis Mai 1988, als wir nach Willspoint Texas (Osten) gezogen sind.
Ich habe einen jüngeren Bruder der jetzt in Canton Texas lebt. Ich lebte bei meinen Eltern, bis ich eine eigene Wohnung in Dallas fand. Ich kam zusammen mit Freunden in Schwierigkeiten und landete im Gefängnis.
Als ich 1991 auf Bewährung freikam, zog ich wieder zu meinen Eltern nach Dallas um Arbeit und eine Beziehung zu finden. Dann traf ich Mandee und wir hatten zwei Kinder zusammen. Mir ging es richtig gut. Dann zerbrach meine Beziehung, da meine Freundin/Ehefrau sehr besitzergreifend und herrschsüchtig war. Das habe ich toleriert, da ich sie liebte. Als die Beziehung auseinander ging, verpasste ich einen Gerichtstermin und einen Besuch bei meinem Bewährungshelfer, sodass die Berufung widerrufen wurde und ich im Mai 1995 ins Gefängnis zurückgeschickt wurde.
Das Gericht ließ mich darauf hin nicht mehr auf Bewährung frei und im November 1997 wurde ich des Mordes beschuldigt, der im August 1991 zurückliegt (nur ein paar Monate nach meiner ersten Entlassung auf Bewährung).
Ich wurde nach Dallas zurückgeschickt, wo ich die Verhandlung abwartete. Aufgrund einer feindlich gesonnenen Ex-Freundin/Ehefrau Mandee wurde ich verurteilt und in den Todestrakt geschickt, wo ich auf meine Freilassung oder Ablehnung warte. Ich werde nicht aufhören, meine Unschuld zu beteuern.
Ich möchte einfach nur hier raus und meine Kinder unterstützen und tun, was ein Vater tun sollte. Ich vermisse sie schrecklich. Ich möchte einfach hier raus und anfangen zu arbeiten, um meine Familie zu unterstützen, der es nicht allzu gut geht.
Ich höre gerne Musik (hauptsächlich deshalb, weil es alles ist, was wir hier drin haben können). Ich lese gerne und schreibe Briefe und treffe gerne neue Menschen. Ich bin im Mesquite Rodeo geritten und habe alles Mögliche gemacht.
Ich wurde auf dem Land groß und das bleibt an einem hängen. (Smile). Ich mag dennoch jede Richtung von Musik, insbesondere Country, außerdem Classic Rock und manches aus New Rock. Ich mag sogar Pop. Ich denke, wie ich bereits eingangs sagte, ich mag Musik, Punkt. Ich würde gerne einige Brieffreunde finden, die gerne mit mir korrespondieren möchten. Danke für das Lesen meines Briefs.
Homepage: http://davidlynncarpenter.free.fr/
Wird weitergeleitet von: emma.pelois@free.fr
März 2004