Arturo Daniel Aranda, Sr. #000636
address: Polunsky Unit D.R., 3872 FM 350 South
Livingston - Texas 77351 U.S.A.
Hello,
I would like to indroduce myself; and my reason why I am writing hope you understand.
My name is Arturo Daniel Aranda, Sr.! I am a Death Row Inmate had been with this case since 1976 but came to Death Row 1979.
(A) I coudn't read, write & speak little English. When I was send to Death Row §Texas§ what I know now is what I learn with inmates white & black inmates.
(B) I am a Mexicano American born in San Antonio TX and I do got a large family, 8 brothers & 9 sisters.
PS
Reason I never ask for pen pal cause I could'nt read and wrote? Now I am a Mexicano age 55 lock up since 1976, hight 5/8... so I hope this information can help me find a pen pal.
Thank you so much
Arturo Daniel Aranda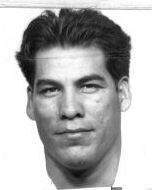 Arturo 1979....
Guten Tag,
Ich würde mich gern selbst vorstellen; und ich hoffe sie verstehen den Grund warum ich schreibe.
Mein Name ist Arturo Daniel Aranda Senior, ich bin Insasse im Todestrakt wegen meines Falles aus 1976, aber bin im Todestrakt seit 1979.
(A) Ich konnte nicht lesen, schreiben und einwenig englisch sprechen, als ich in den Todestrakt Texas geschickt wurde. Was ich nun weiß, ist was ich von weißen Insassen und schwarzen Insassen lerne.
(B) Ich bin Mexikanischer-Amerikaner geboren in San Antonio,Texas und ich habe eine große Familie, 8 Brüder und 9 Schwestern.
Der Grund warum ich nie nach Briefbekanntschaften fragte war, weil ich nicht lesen und schreiben konnte.
Nun bin ich ein 55 jähriger Mexikaner, eingesperrt seit 1976, Größe 1,77 m., so hoffe ich diese Information kann helfen eine Brieffreundschaft zu finden.
Ich danke sehr.
Arturo Daniel Aranda
April 19, 2004