Best videos on the theme
Upcoming Executions US
IMPRESSUM
Conditions on DR AZ, Ohio
Ohio Executionschedule
Visiting Death House
Arizona
Guestbook First 150 entries..
How to send money to an inmate account or write an e-mail:

An Execution Date set
August Cassano # A-145-242
C.C.I
Chillicothe, Ohio 45601
P.O.Box 5500
USA
AugustCassanoOH@deathrow-usa.com or with Jaypay.com you can send an e-mail for a first contact if you like, please leave a postal address. Thank You
December 2007
My name is August Cassano, 5'9", Italian. I would like to correspond with any person that enjoys the outdoors and animals> I have a love for both.
I like old time rock & roll music. I don't really have anyone in the free world no more.
I'm from Cleveland , Ohio , and have been on Death Row since 1999, May, and I'm lonely and would like to write someone who cares.
August Cassano
Dezember 2007
Mein Name ist August Cassano, 1,75 m, Italiener. Ich würde gerne jemanden kennenlernen der Spaß an der Natur und an Tieren hat. Ich liebe beides.
Ich mag alte Rock 'n' Roll Musik und habe nicht mehr wirklich jemanden in der freien Welt.
Ich komme aus Cleveland, Ohio und bin seit Mai 1999 im Todestrakt. Ich bin einsam und würde gern jemadem schreiben der sich kümmert.
August Cassano
September 2006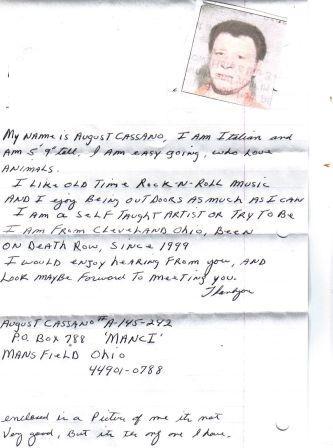 September 2006

Mein Name ist August Cassano, ich bin Italiener und 1,75 m groß. Ich bin gelassen und liebe Tiere. Ich mag alte Rock 'n' Roll Musik und genieße es so viel wie möglich draußen zu sein. Ich bin ein selbstbeigebrachter Künstler oder versuche einer zu sein. Ich komme aus Cleveland, Ohio und bin seit 1999 im Todestrakt. Ich würde mich freuen von dir zu hören und dich vielleicht auch mal zu treffen.

Danke.


August Cassano # A-145-242
P.O. Box #788
Mansfield, Ohio 44901 U.S.A