Anthony Haynes # 999330
DEATH ROW Polunsky Unit
3872 FM 350 South
Livingston - Texas 77351
U.S.A.
With Jpay.com you can send an e-mail directly

August 2008
Watch and listen to : http://video.google.com/videoplay - "Anthony Haynes Inerview"

For italian speaking: www.video.google.it box labeled: 'cerca' and type 'il miglio verde'

January 2007

Happy New Year ! Wish you the best in 2007. I write a rapper named Capital X and he's made a song and a video about me and my case. I think you'll like to check it out. If you are interested, you can listen to the song (titled "999330") and purchase the disk and see the video at www.myspace.com/capitalXaka305375. If you purchase the song then let him know you are a friend of mine. I'd also like to know your opinion once you hear it. Anyway that's all Take it easy.

Anthony
http://www.myspace.com/capitalXaka305375
received June 2005
Greetings!

My name is Anthony Cardell Haynes. I'm writing this letter because I'm looking to meet some new and interesting people. I am a peoples' person and I very much enjoy meeting and conversating with those of various and different backgrounds. In the end my hope is that through letters I'll make some new friends who will enhance my life and make my days just a little brighter.

So, exactly who is Anthony Haynes? Well, I've been lots of things since my birth on January 22, 1979. I've worn many shoes in my 26 years on this Earth. The one I currently find myself in is that of a Texas Death Row prisoner. I've been forced to wear these shoes since I was 20 years, but I have incarcerated on this case since I was 19. I readily admit that when I was free I was not the most upstanding citizien, to find in my present predicament. I grew up in a family that cared for me and who was there for me. Although my mother and father were never married my dad has always been there for me in every way. But in every life there are events that push a person in a certain direction, and when these things occurred to me I found myself involved with things like crime and drugs. Even though I was an alcoholic, and drug abuser, I still somehow managed to excell scholastically. Upon my high school graduation I had a number scholarship offers because of my academics, and I selected the one that took as far from the criminal element as possible in my home town of Houston, Texas. This was in the form of a five year Navy scholarship in which I would spend my first year active duty in Newport, Rhode Island and then complete the last four years at the college of my choice. Well, once again life events came into play. They pushed me during my summer vacation after the one year military duty and before the start of my first year in college, and I found myself in a totally unfamiliar situation: jail.

I was only 19 at this time and as strange as it may sound I thank God I got locked when I did. The life I had begin to lead after that one year in the Navy was one that surely would have ended in my demise. I was a boythen, but prison has matured me in many ways and made a good man out of me. I am all about progress, and being here has not stopped me from growing and developing into a much better person than I ever was when I was free. I took the initiative myself and definitely made myself a changed individual with morals and values.

A part of that growth has been through education. School was never very challenging for me, so I took that and continued to gain knowledge through books and other avenues. I'm a seeker of knowledge and the more I learn the more I realize how much I really don't know, and that only serves to fuel my desire to learn more.

I'm a happy-go-lucky person and a true Type B personality. I'm laid back and optimistic and this helps me cope with being where I am. I also admit that my spiritual beliefs make it evenless grueling, but I've always been one to make the best of whatever life throws my way and look on the bright side. That's just me.

Although I'm trapped inside this cage 23 hours a day I've found ways to occupy my mind and my time. Some of the avenues I take to do my time and to entertain myself include reading different types of ooks, writing poetry and essays, playing chess, occasionally drawing and having stimulating conversation through letters and with those around me. I also have a great love affair with music. I enjoy most genre. Alternative rock, heavy metal, classic rock, R&B, hip-hop, trip-hop, pop world music gospel ... But as many styles of music as I enjoy I must admit that I am not a fan of country western music (smile).

Some things I look for in my friends are honestly, open-mindedeness, a non-judgemental attitude and sincerety. I fell that I embody all of these things, so naturally I'm drawn to others who posses similar traits. I respect myself and that makes me respect others and treat them in the manner than I, myself, like to be treated. It is my hope that these things will compell someone out there to want to reach out to me, start a correspondence and eventually be able to call me a friend.

Thanks for your time and consideration. I'll respond to all comers!

Anthony Haynes

For your first contact if you like: AnthonyHaynes@deathrow-usa.com (Please send your regular address with for a direct respond.)

My case has been sitting in the Fifth Circuit for like 15 months. Had they ruled against me I'd be waiting for an Execution date right now. As it happens though God blessed me with some action. They ordered my case back to Federal Court for another review. The issue they accepted was one concerning my jury. That means that if the Federal judge rules in my favor this will open the door to a whole new trail. So we are definitely still in this fight. The good thing is that this same exact issue got another off death row just a few weeks ago.

The Supreme Court has already ruled that this particular issue warrants a whole ne trail. So all I need is for the federal judge to agree and follow the law. I'm not suggesting that you get your hopes too high, but this is definitely a good thing and it can lead to something better. I'm keeping the situation in God's hands where it has been for years. I know that he'll do what is in his will to do. So this is just an update to let you know the current status of my legal situation.

Anthony Haynes v Quarterman
COA application denied on all issues except for the Batson Claim claims

Anthony Haynes #999330
Polunsky Unit D.R.
3872 FM 350 South
Livingston - Texas 77351
U.S.A.

Erhalten im Juni 2005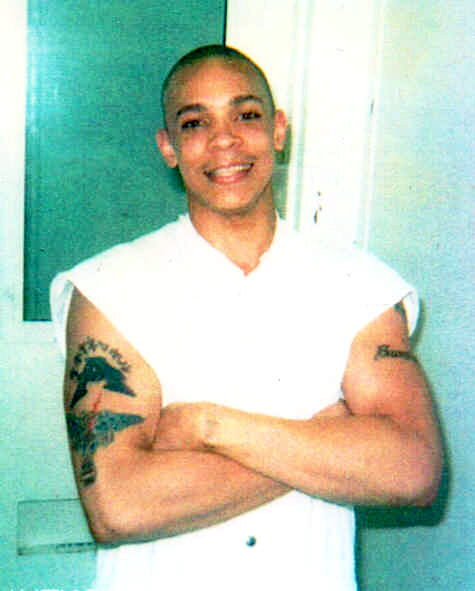 Ich grüße Sie! Mein Name ist Anthony Cardell Haynes. Ich schreibe diesen Brief, weil ich gerne neue und interessante Menschen treffen möchte. Ich bin ein Mensch, der gerne unter Menschen ist und mich mit ihnen unterhalten über die unterschiedlichen Hintergründe ihres Lebens. Am Ende hoffe ich darauf, dass ich durch Briefe einige neue Freunde kennen lerne, die mein Leben aufwerten und meine Tage nur ein bisschen aufhellen.

Also, wer genau ist Anthony Haynes? Also, ich war schon viel seit meinem Geburtstag am 22. Januar 1979. Ich habe schon viele Schuhe getragen in meinen 26 Jahren auf dieser Welt. Die Welt, in der ich mich momentan befinde, ist der Todestrakt von Texas. Ich wurde gezwungen, diese Schuhe zu tragen, seit ich 20 Jahre alt bin, aber eingesperrt bin ich wegen dieses Prozesses seit ich 19 Jahre alt bin. Ich gebe bereitswillig zu, dass ich, als ich in Freiheit war, nicht der herausragendste Bürger war, und mich deshalb in meiner jetzigen, misslichen Lage befinde. Ich wuchs in einer Familie auf, die für mich da war und sich um mich kümmerte. Obwohl meine Mutter und mein Vater nie verheiratet waren, war mein Vater immer und für alles für mich da. Aber in jedem Leben gibt es Situationen, die einen Menschen in eine bestimmte Richtung treiben, und als diese Situationen aufkamen, fand ich mich in einem Umfeld von Drogen und Kriminalität wieder. Obwohl ich ein Alkoholiker und Drogenkomsument war, schaffte ich es dennoch, meinen High School Abschluss zu machen. Im Abschlussjahr der High School hatte ich einige Angebote für Stipendien wegen meiner akademischen Fähigkeiten und ich wählte eine Ausbildung, die mich so weit wie möglich weg von meinem kriminellen Umfeld in meiner Heimatstadt Texas brachte, wie möglich. Es war eine 5-jährige Navy-Ausbildung, in der ich im ersten Jahr eine Grundausbildung in Newport, Rhode Island und dann die letzten 4 Jahre in einem College meiner Wahl verbringen würde. Aber wieder einmal kamen die Ereignisse des Lebens ins Spiel. Nach meinem einjährigen Militärdienst wurde ich in meinen Sommerferien gedrängt und fand mich in einer total unfamiliären Umgebung wieder: Gefängnis.

Da war ich erst 19 und so komisch, wie es sich auch anhört, aber ich war froh, dass ich eingesperrt wurde. Das Leben, das ich nach meiner Grundausbildung in der Navy führte, hätte mich sicherlich in mein Verderben geführt. Da war ich noch ein Kind, aber das Gefängnis ließ mich in vieler Art erwachsen werden und machte einen guten Menschen aus mir. Ich bin immer für den Fortschritt, und nur weil ich hier bin, habe ich nicht aufgehört zu wachsen, mich in einen besseren Menschen zu entwickeln als zuvor, als ich in Freiheit war. Ich habe selbst die Initiative ergriffen und mich definitiv in einen Menschen mit Moral und Wertvorstellungen verändert.

Ein Teil dieser Entwicklung fand durch Ausbildung statt. Die Schule war nie eine wirkliche Herausforderung für mich, also nahm ich die Fähigkeit und erwarb Wissen durch Bücher und andere Alleen. Ich bin auf der Suche nach Willen und je mehr ich lerne um so mehr merke ich, wie wenig ich weiß, und das weckt nur den Wunsch, noch mehr zu lernen.

Ich bin ein Mensch, der glücklich ist und Glück im Leben hat und ein wahrer Typ B-Persönlichkeits-Mensch. Ich lehne mich zurück und bin optimistisch und das hilft mir, mit meiner jetzigen Situation und wo ich mich befinde, umzugehen. Ich gebe zu, dass auch mein Glaube es weniger gräulich macht, aber ich war immer schon ein Mensch, der das Beste aus dem, was das Leben bietet, zu machen und die gute Seite zu sehen. So bin ich eben.

Obwohl ich in diesem Käfig 23 Stunden täglich eingesperrt bin, habe ich Wege gefunden, meine Gedanken zu beschäftigen und die Zeit nicht lange werden zu lassen. Einige der Avenues, die ich entlang gehe, um die Zeit vorüber gehen zu lassen und mich zu beschäftigen, sind, die unterschiedlichsten Bücher zu lesen, Gedichte zu schreiben und kurze Abhandlungen, Schach zu spielen, manchmal zu malen und anregende Konversationen durch Briefe zu führen und mit denen um mich herum. Auch habe ich eine großartige Liebesbeziehung mit Musik. Ich höre fast alles. Alternativen Rock, Heavy Metal, Classic Rock, R&B, Hip-Hop, Trip-Hop, Pop World music Gospel… Aber ich muss gestehen, so viele Arten von Musik ich auch mag, ich mag keine Country Western Musik (smile).

Etwas, was ich in einem Freund suche ist Ehrlichkeit, Offenheit, eine unvoreingenommene Meinung und Ehrlichkeit. Ich denke, dass ich all diese Dinge verkörpere, daher suche ich natürlich nach jemandem, der ähnliche Pfade schreitet. Ich respektiere mich selbst und daher respektiere ich auch andere und behandle sie in der ich selbst behandelt werden möchte. Ich hoffe, dass diese Dinge jemanden ansprechen, der mich dann erreichen möchte und irgendwie mit mir korrespondieren und mich vielleicht sogar irgendwann einen Freund nennen möchte.

Danke für Ihre Zeit und Beachtung. Ich werde allen antworten, die auf mich zukommen!
Anthony Haynes
Gast auf Carlton Turner's Seite
Übersetzt: "The Belly of the Beast"
von Anthony Haynes -999330
"Der Nabel des Geschehens"
Gefahr!
Gefahr!
Du gehst in unsicheres Territorium
Um in den Bauch des Biestes zu gelangen
Einen Teil meiner Seele möchten Sie nicht kennen
Sie machen besser langsam, denn Sie bewegen sich zu schnell
Und an einem Punkt möchten Sie nicht weitergehen
Sie schieben mich immer näher
An die Grenze
Jetzt sind Sie zu weit gegangen
Ich verliere meinen Kopf
Im Bauch des Biests
Versteckt im Innersten
Mit Fangzähnen, Klauen und bewaffnet bis zu den Zähnen
Dinge, mit denen ich nicht gerne spiele
Also belasse ich sie gefesselt
Denn ich weiß, was sie anrichten können
Sie verursachen viel Schmerz
Verwüstung und Chaos, um nur einige zu nennen
Monster von innen
Dunkle, schreckliche Dinge,
sofort bereit
jeglicher Bedrohung zu widerstehen, die Sie bringen
Ich beschwöre sie herauf
und sehe in den Spiegel
ich bin gezwungen, mich abzuwenden
wegen des totalen Entsetzens
Ich bemerke schnell
genau, was ich sehe
und lasse sie frei aus dem Verlies
im Bauch den Biests.
Übersetzt: "An End to a New Beginning" von Anthony Haynes # 999330
"Ein Ende für einen neuen Anfang"
Am 25. Mai 1998
endete mein Leben, wie ich es bisher kannte
Ich wurde wiedergeboren
Ein Baby
Gezwungen alleine zu überleben in den Gedärmen der Gefängniszelle.
Ich hatte keine Familie
Keine Mutter / Vater
Niemand, der mir Sicherheit gibt: "Alles wird gut…"
Aber ich hatte Lehrer
Andere Häftlinge, die schon einige Zeit dort waren
Wände
Und mich selbst
Wie jeder Lehrer, der Schüler hat, die sich auszeichnen
Nahmen mich diese Häftlinge unter ihre Fittiche
Lehrten mich, wie es in dieser Welt zugeht
Ich wahr ehrgeizig in diesem Unterricht
Ich wusste, es bedeutet zu überleben und es zu schaffen
Also hörte ich zu und lernte
Ich wuchs heran
Wie jedes Kind
Ich machte Fehler auf dem Weg
Aber sie halfen mir nur dabei, noch besser zu lernen, was ich brauchte
Ich war glücklich (oder sollte ich sagen, gesegnet)
Ich lebe in einer Welt, die von Geiern, Löwen und Wölfen angeführt wird
Immer auf der Suche nach Opfern
Aber ich bin immer noch kein Opfer dieser Biester
Ich wurde gesegnet
Den Menschen, denen ich mein Vertrauen gab, taten alles für mich
Sie haben dieses Vertrauen nie missbraucht
Und nur deshalb stehe ich heute vor Ihnen
als ein Mann
ein richtiger Mann
ein starker Mann
ein weiser Mann
Und obwohl ich ein solcher Mann bin – täusche ich mich nicht – ich habe noch viel zu lernen
Dieser Kampf ist noch lange nicht vorbei…..
Juli 2005