Best videos on the theme
Upcoming Executions US
IMPRESSUM
Conditions on DR AZ, Ohio
Ohio Executionschedule
Visiting Death House
Arizona
Guestbook First 150 entries..
How to send money to an inmate account or write an e-mail:

An Execution Date set
Mr. Albert Jones K23800
San Quentin ST Prison 1EB-117
San Quentin, California 94974 USA
For a first contact if you like: AlbertJonesCA@deathrow-usa.com, please leave a postal address for response. Thank You
Dezember 2009
December 2007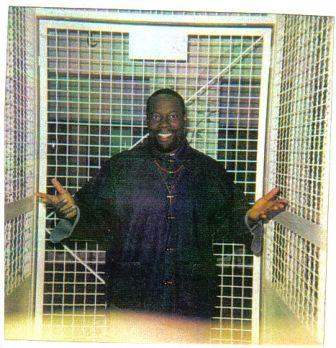 Hello my friends,
Hi I'm Albert Jones and I'm on San Quetin Death Row. 10 years now. I'm 42 years old, I have one daughter Albanisha. She is 18 years old and one grandson 9 months old and I miss her so so much.
I love all sports I play chess, dominoes, basket ball, I love to read my bible, I'm a growing christian and the lord is my life his words is what keeps me strong and his words are so real in my life. I listen to gospel, R&B and some RAP music. I like to write letters and I'm learning how to write poems which I find fun to do.
I'm a very honest and open person and I know that we can be good friends and I'm looking for you man or woman any age this is a long and slow ride and your friendship well help ease the pain and bring some joy in my life. So I ask you to put that smile back on my face and joy in my life. Today is a new day for both of us. Thank You!!!!!!
God bless you
Much respect your new found friend Albert !!
Mr. Albert Jones K23800
San Quentin ST Prison 1EB-117
San Quentin, California 94974 USA


Ein Gebet für uns
Mit der Klarheit der Liebe unseres Vaters
Mögen wir diesen Pfad wandern
Mit Mut, Sinn und Leichtigkeit.
Mögen wir immer
Zu Ihm aufschauen damit er uns führt
Und uns hilft, weiterzugehen,
und Ausgleich und Ehrlichkeit gibt
einen neuen Kreis zu bilden,
der groß genug ist,
uns alle darin aufzunehmen.
Amen

Dezember 2007

Hallo meine Freunde,

Hi, ich bin Alert Jones und ich bin im Todestrakt von San Quentin seit
nunmehr 10 Jahren. Ich bin 42 Jahre alt und habe eine Tochter namens
Albanisha. Sie ist 18 Jahre alt und einen 9 Monate alten Enkel – ich
vermisse sie so so sehr.
Ich liebe jeglichen Sport und ich spiele Schach, Domino, Basketball,
ich liebe es, die Bibel zu lesen und ich werde immer mehr zu einem
Christen, der Herr ist mein Leben, seine Worte geben mir Kraft, sie
sind so real in meinem Leben. Ich höre Gospel, R&B und ein bisschen
RAP Musik. Ich schreiben gerne Briefe und ich erlerne die Kunst,
Gedichte zu schrieben, was mir großen Spaß macht.
Ich bin ein sehr ehrlicher und offener Mensch, daher weiß ich, dass
wir gute Freunde werden können. Daher suche ich nach dir, Frau oder
Mann jeglichen Alters, es spielt keine Rolle. Dies wird eine lange
sowie langsame Reise, in der Deine Freundschaft mir helfen wird, den
Schmerz leichter zu ertragen und mir Freude in mein Leben
zurückbringen wird. Also bitte ich Dich, mir mein Lächeln in mein
Gesicht und Freunde in mein Leben zurückzubringen. Heute ist ein neuer
Tag für uns beide. Danke Dir!!!
Möge Gott Dich segnen


Mit viel Respekt, Dein neu gefundener Freund Albert!!